http://www.youtube.com/watch?feature=player_embedded&v=CawY6xBc3Fc/
AFROFUTURISM is an emergent literary and cultural aesthetic that combines elements of science fiction, historical fiction fantasy Afrocentricity and magic realism with non-Western cosmologies in order to critique not only the present-day dilemmas of people of color but also to revise, interrogate, and re-examine the historical events of the past.
Alondra Nelson explains Afrofuturism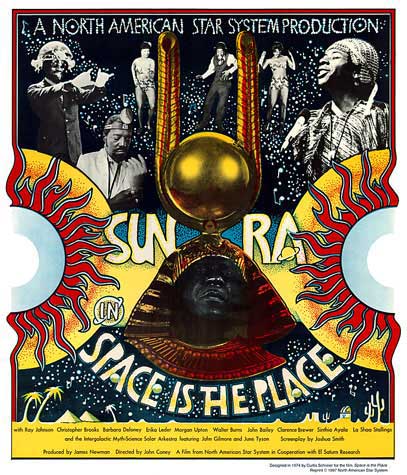 Drexciya : "Journey of the Deep Sea Dweller 1" : Diese Hybridgeschöpfe entstanden der Sage nach während der Schiffstransporte afrikanischer Sklaven nach Amerika, als tausende von schwangeren Frauen unterwegs über Bord geworfen wurden. Ihre im Meer geborenen Kinder hatten in der Gebärmutter die Fähigkeit entwickelt, unter Wasser zu leben. Sie wuchsen zu Kämpfern heran, die als subaquatische Guerillas ihre eigene Parallelwelt schufen, von deren militantem Charakter die drexciyanischen Tondokumente (und hier) eindringlich Zeugnis ablegen.
Mit der afrofuturistischen Utopie eines "Black Atlantic", auf den ihre Alben in stets neuen Varianten anspielten, wurden Drexciya zu den Lieblingen aller Techno-Theoretiker.
The RAMM:ΣLL:ZΣΣ