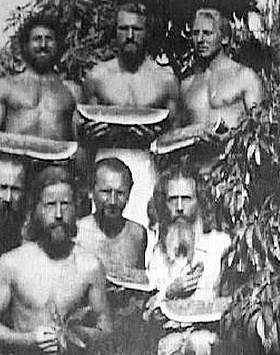 Seven of California's Nature Boys, including Gypsy Boots, top left, are shown in this file photograph in Topanga Canyon around 1946. Boots, a California fitness icon, author and health guru, has died at age 89.
---
Orbituary by Gillian Flaccus
9:36 p.m. August 9, 2004
LOS ANGELES – Gypsy Boots, a California fitness icon, author and health guru who paved the way for generations of beatniks, hippies and health-food junkies, has died at age 89.
Boots, born Robert Bootzin, died early Sunday at a convalescent home in Camarillo after a brief illness, said his son, Daniel Bootzin.
Born Aug. 19, 1915, in San Francisco to Jewish immigrant parents, Boots defined what it meant to live close to nature decades before the nation's current obsession with organic foods, yoga and exercise.
During his life, he tried a number of careers, from author to entertainer to hay baler to trendy restaurateur – but never shed his long hair and thick beard or his passion for natural foods and a near-Spartan existence.
"What people have a hard time understanding is that in the early 1960s, there were no hippies and nobody had long hair, nobody had a beard," said Daniel Bootzin. "He really was that way way before anybody had that look. As a child, I was painfully aware that he was extremely different than anybody else."
Boots' philosophy of clean living, exercise and healthy eating – laid out in his books "Barefeet and Good Things to Eat" and "The Gypsy in Me" – attracted thousands of fans worldwide and netted him 25 appearances on the Steve Allen Show in the early 1960s.
Inspired by the German "Naturmensch" movement, Boots and a "tribe" of fellow bohemians spent the 1940s living off the land in Tahquitz Canyon near Palm Springs, sleeping in caves and trees and bathing in waterfalls. Photos from that time show a robust and tan man, often shirtless and shoeless, with a shaggy beard and long hair.
His lifestyle was immortalized in the 1948 Nat King Cole hit "Nature Boy," which was composed by fellow "tribesman" Eden Ahbez, said Gordon Kennedy, a longtime friend who has written a book about Boots and other Nature Boys called "Children of the Sun."
In 1953, Boots married Lois Bloemker and settled near Griffith Park in Los Angeles to raise his three sons, Daniel, Alexander and Freddy.
In 1958, he opened the "Health Hut" on Beverly Boulevard and served organic foods to a host of A-list celebrities. Yet Boots never judged others by his own strict health standards, said his son.
"He said a lot that you could eat the best food in the world, but if you're not happy you have nothing. If you're not happy, you're not healthy," he said. "He was strict for himself, but he didn't really care what other people ate."
Boots eventually settled down, but continued to promote health food and exercise, going door-to-door in the 1960s and 1970s peddling organic produce and offering fitness classes. He was often spotted running barefoot in Griffith Park; on his 50th birthday, he ran 10 miles in 120-degree heat.
Beginning in 1961, Boots appeared 25 times on the Steve Allen Show. The shows, which reached a total of 30 million viewers, made Boots into a national star. Boots would swing onto the stage on a rope, long hair flying, and persuade Allen to help him make organic juices and do exercises with him.
"It was just really zany. A lot of letters came in and they just kept having him back over and over again," said Kennedy, who in 1998 published "The Children of the Sun," a pictorial history of the "Naturmensch" movement and its impact on the United States.
Boots also appeared in 1968's "Mondo Hollywood," a cult movie starring Ram Dass and Frank Zappa, and had roles in other films such as "Swingin' Summer," "Confessions of Tom Harris" and "The Game" with Michael Douglas.
Photos on his Web site show him hobnobbing with celebrities including Marlon Brando, Jay Leno, Paul Newman and Muhammad Ali. Almost every year, Boots would host a birthday party at Paramount Studios that attracted Hollywood celebrities, said Kennedy.
In his later years, Boots was a devoted USC fan and loved attending football games carrying bells that he would ring as he dashed up and down the Coliseum steps. At his last game several years ago, his son said he still climbed the stairs although he was in his mid-eighties.
"He was the embodiment of a positive attitude. Sometimes I couldn't understand why he was so positive. He really let nothing bring him down," Daniel Bootzin said. "He really touched people around the world. ... He had two parts to him: a health guru and a clown who loved to make people laugh."
Boots is survived by his sons Daniel and Alexander; his former wife, Lois Bootzin; three grandchildren and a sister. A third son, Freddy, died in 2001.
A public memorial will be announced later this week, Daniel Bootzin said.